J-Pillow an Innovation in Travel Pillow Spectrum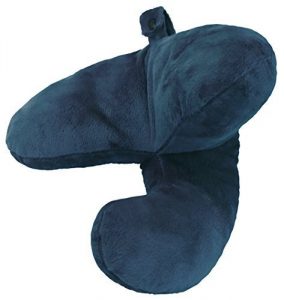 When traveling is your passion or profession, sleeplessness and tiredness become part and parcel as you cannot sleep comfortably while traveling. Many companies have developed pillow like products that people carry while traveling. But most products have failed to provide the comfort and leisure they have promised. Several types of research have been performed to give a perfect shape to a pillow that can give maximum ease. Such products come in various size, dimensions, and weight. This J-Shaped best selling travel pillow had proved to be a comfortable option when comes to rest and ease.
Design
The J-pillow as the name suggests is discreetly and sensibly designed in the form of alphabet J. It is intended to give equal support and comfort to your neck, chin, and head. With 3 years of continuous and complain free service, this pillow has been designated as the best-selling travel pillow on Amazon in the U.K. It has beat 10000 products with similar service assurance across the world on Amazon.
The J-Pillow Travel Pillow has a distinctive design that gives respite from uncomfortable travel. It is fashioned like "J" in 3D form. Here the 'J' part of the pillow takes a curve under the chin that enables a good support to the head and prevents it from falling to the fore. The pillow forms to be an effective neck pillow, as it seals the void between the head and shoulders. This helps to bear the weight of the head off the neck, thereby allowing the muscles to relax.
Features
With time this J-shaped pillow has become a travel companion of millions and has become a must-have for travel purpose. In 2013 it gained popularity as the winner of the British invention with a global patent. It is scientifically designed with a perfect dimension of 11.8 x 7.9 x 13 inches. It weighs just 7.5 ounces and hence is easier to carry. Besides being light at the weight, the material used is firm yet soft that is comforting enough to help your neck, chin, and head rest at a correct angle. The comfort and pleasure it provides to a traveler while at sleep is sure to draw the attention of the sleep-deprived travelers.

Why Is the Best Selling Travel Pillow Useful Compared to Other Products:
Best travel companion: This pillow has proved to be the best in helping you get sound sleep on cramped plane cabins, trains, buses, cars or any

You will have many ways to use a J-pillow

such vehicle. Besides traveling it can be well utilized in homes too. You can perfectly use it for relaxing purpose in your home, be it your couch or while you are reading in your bed, it offers immense comfort and keeps your head and neck relaxed for long. For several medical issues, it can also be used to sleep upright in bed. Moreover while traveling; it is supposed to provide ultimate comfort with the best effectiveness when seated in the window pane. But that doesn't mean that its comfort is ineffective when sitting in the middle or aisle seats. It is still better than the regular pillows when comes to relaxation while traveling.

Light in weight: The J-pillow being light in weight is easier to carry, it has a handy snap-loop fastener that is easily attachable to hand luggage. It is so soft in texture, that one can also squeeze it down to and packed compactly, easier than regular "U" shaped pillows.
Hygiene quotient: The best part of the J-pillow is that it can be washed and dried along with its cover and hence it remains void of germs. You do not necessarily use your hands but rather pop the whole item for a warm machine wash and get it tumble dried. You won't be able to differentiate whether it is used or new! Just remember, choose to tumble dry on low heat for a softer support. You can even air dry to get a firmer support and high-quality comfort.
However, amidst the good points the pillow has few trivial issues:
Not suitable for middle seats: The J- pillow though is very comfortable while traveling in the airplanes but it fails to give that comfort when you are seated in the middle seat as there is no area to rest the pillow on. So if the J- pillow design is modified a little then it will be much more comfortable for the travelers.
No built-in pocket player: There is no built in pocket player space in the J-pillow. So one cannot keep the media players intact in the pillow and enjoy the music.

J-pillow travel pillow if rated on different aspects will score various rating based on its features. Like, if we talk about usefulness, it has the power to score 9 out of 10 as it has proved to be the best pillow and has been awarded for the unique design and comfort of the pillow. Considering the value it can be rated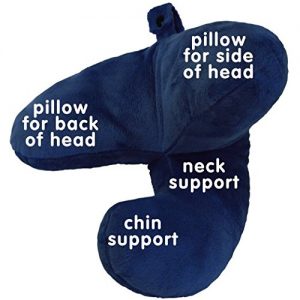 as 8 out of 10 as the prices are bit expensive but it stands out in the travel pillow spectrum. The comfort that it gives makes the user happily spend extra dollars for this pillow. When talking about durability it scores 7 /10. The J shape of the pillow doesn't allow you to fold it and neither can it be hung as it doesn't have a loop, but being light in weight, it is not much tough to carry. Talking about its looks, it scores 9/10 still carrying the power to give a comfortable sleep.
The J-pillow travel pillow is fantastic to use when traveling because it can be used in 7 unique ways - so it's like traveling with seven different pillows in one.
It also makes an ideal life-style pillow and is great to use around the home when relaxing on the sofa or reading in bed. The J-pillow helps provide correct anatomical support for sleeping upright making it a fantastic orthopedic pillow / neck pillow which may help reduce stiffness and soreness in the neck region for some people when compared to sleeping without support.
Therefore, the end of the story is that the best selling travel pillow will be the best option for anyone looking for comfort as the major priority. A worrisome travel becomes quite relieving with a proper sleep that doesn't strain your mind and body, J-Pillow gives the right relaxation with proper posture positioning.
(Visited 457 times, 1 visits today)
Summary
Reviewer
Review Date
Reviewed Item
Author Rating