What Natural Latex Foam Pillow Can Give You?
Selecting the Ideal Pillow

Pillows are used to comfort our heads and necks when we sleep, keeping them both properly aligned. Natural latex foam pillow made from natural rubber sap from young rubber trees, not only gives you blissful sleep but brings you closer to nature and helps to protect the environment too.
Finding the best Natural Premium Latex Foam Pillow is now not an effort that you would need to tear your hair out as it is now made available with super quality materials right here in the United States manufactured just for you.
When you select a pillow to take to bed with you, it should keep your neck and head as comfortable as it could be.
Natural Premium Latex
Carefully nurtured rubber trees are delicately tapped by gently slicing the bark to provide the important raw material to make latex foam pillows that are a cut above the rest when the pillow is organic and of an environmentally friendly and superior product that would keep you comfortable in slumber and give you years of use.

Natural Premium latex being an organic product keeps away the tell-tale signs of mildew formation and keeps dust mites away making it a very healthy product to have around the most sensitive part of your body.
Sourced from the best producers worldwide of Natural Premium latex it undergoes a very stringent manufacturing process in the United States to bring out a high-quality product that has been highly rated for comfort, design and long-term use.
Benefits Derived from OrganicTextiles Natural Premium Latex Foam Pillow Features
The Pin Core ventilation helps easy cool air channel flow helping to maintain a comfortable temperature within the latex foam pillow providing coolness around the neck and head area preventing neck pains due to sweating in humid weather conditions.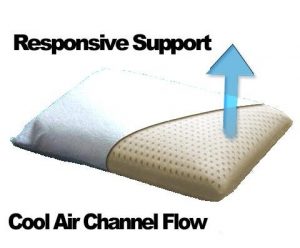 There are three sizes in Medium firm and Soft to enable customers to select the ideal latex foam pillow that they would like to take to bed with them.
Standard, Queen, and King sized latex foam pillows would keep any tired head in deep sleep and when waking up in good spirits and well rejuvenated to handle the day's chores energetically.
The Medium Firm and Soft latex foam pillows are quality products manufactured in the United States and then dressed up with 100% natural cotton cover stitched with strong cotton yarn all sourced locally to bring the best organic product that you would not find anywhere else.
Design Excellence
Careful thought has been inculcated to bring the best support to any type of sleeper and the latex foam pillow picked up by discerning sleepers have proved that they have ultimately got the ideal pillow that they have been searching for a very long time to rest their heads and necks into deep undisturbed sleep.
It is the exemplary design and Natural Premium latex within that is the trick to take dreamy sleepers to that long awaited and undisturbed sleep they need whichever way they tend to sleep.
The design also enhances anti-microbial qualities and is also hypoallergenic to those suffering from various allergies because it is a 100% natural product.

Quality and Materials
Every item that goes to make the best latex foam pillow having been selected carefully makes the product stand out tall among all other pillows made from different materials but which are not organic and could bring long-term allergic reactions, especially to sensitive skin.
The high grade 100% cotton which would snugly kiss your neck whilst you are in deep sleep would be the perfect partner for you in bed if you need to get the beauty sleep you so desperately need, to get the new day going on a brisk footing.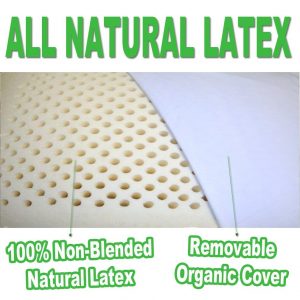 The latex foam pillow does not cause harm to the environment like other pillows made of synthetic yarn and fiber which are sometimes health hazards and are under strict supervision before they are released to the market for sale.
The Pros and Cons
Latex foam pillow being a 100% organic and natural rubber based product would have a slight odor of the natural rubber when you use it for the first time and could put you off but a few days to air out and getting the air outside to do the trip would take that smell out to make it the ideal pillow for you.
Some sleepers may not like the Medium firm but they could always select the softer texture and which is also available in different sizes.
A few washes of the cotton covers could take away the mild smell of natural rubber and leave a more soothing natural odor when you sleep on after a few air outs.
There are no harmful chemicals used in its manufacture taking into account that it wraps around your neck and face and hence it is safe as well as it is comfortable, to touch your skin at close quarters without any harm whatever skin type you may have.
The manufacturing process is well regulated and being a US product it naturally is made under the best possible conditions to be safe and healthy to everyone.

Conclusion
If there is a pillow that you would really want to use and in return get your sleep patterns back to normal it is none other the only 100% natural latex foam pillows manufactured to the highest quality standards and which come with the assurance that you would have some "good night's" sleep once again, like you would had when you were a baby.
Sleep deprivation could cause many other side effects and sicknesses hence it is imperative that you get a natural product to rest the most valuable part of your anatomy and safeguard it from causing you unnecessary and unbearable pain.
So the next time you are thinking of getting a new pillow, take a close hard look at the latex foam pillow with the name tag Organic Textiles All natural Premium latex Foam pillow and get that undisturbed sleep that you always wanted.
Next Review of Pillows for Side Sleepers